Krzysztof Onak became interested in computer science at the beginning of elementary school when his father-teacher used to bring home a ZX Spectrum computer during school holidays. Later, he found a book on programming in Pascal and learned his harsh first programming language. Later, he bought a book by Jon Bentley, "Programming Pearls," which interested him in algorithmics. He still finds them a great introduction to the topic and now recommends them to his students. In high school, he was an OI finalist four times, winning two gold medals. He also took part in the IOI twice, winning one gold and one bronze medal.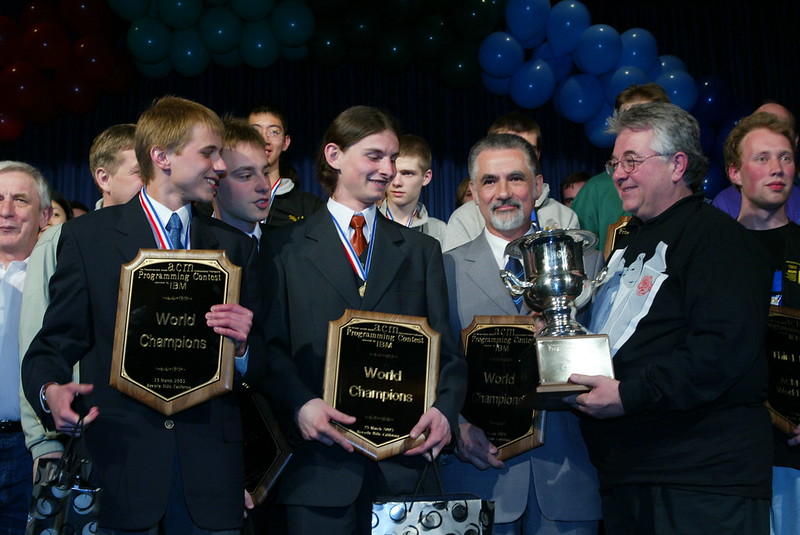 Due to the contacts made during the OI, he chose to study computer science and mathematics at the University of Warsaw. The team with Andrzej Gąsienica-Samek and Tomek Czajka was created when he was in his second year of studies, but only the second time, they managed to advance to the ICPC 2003 finals. They took first place, definitely ahead of the competition, thanks to a more significant number of solved tasks. After a less successful start a year later (10th place), he decided not to compete in programming competitions anymore, focusing more on science. However, he only got a bachelor's degree in mathematics and a master's degree in computer science from prof. Diksa. In the meantime, he did an internship at Microsoft's headquarters but quit working for this company. He dreamed of doing a Ph.D. in the US and was accepted at MIT, where he defended it in 2010, working on algorithms for big data. Then he received a Jim Simons scholarship, which allowed him to conduct research at Carnegie Mellon University in Pittsburgh for two years.
From 2012 to 2020, he was employed as a scientist at IBM T.J. Watson Research Center in Yorktown Heights, New York. He also collaborated with MIT-IBM Watson AI Lab, interested in practical algorithms for large data sets in distributed processing systems and their applications to machine learning and artificial intelligence.
In 2020, he was offered a job at Boston University, and since he accepted it in January 2021, he moved to the city with his whole family. He was the first person employed directly at the new interdisciplinary unit, the Faculty of Computing & Data Sciences. He helps to create a new field of study, "data science," which requires a lot of work but is an exciting challenge for him. Among other things, it involves planning requirements, new classes, and lectures. The first enrollment for these studies takes place this year, and students will begin their studies in September. As part of its duties, it organizes workshops and conferences for scientists. Recently, he organized two meetings for scientists from around the world in Warsaw.