Krzysztof Onak zainteresował się informatyką na początku szkoły podstawowej, kiedy jego ojca-nauczyciel przynosił do domu w czasie ferii komputer ZX Spectrum. Jakiś czas później wpadła mu w ręce książka o programowaniu w Pascalu, dzięki czemu nauczył się pierwszego poważnego języka programowania. Nieco później kupił książkę "Perełki programowania" Jona Bentleya, która zainteresowała go algorytmiką. Nadal uważa je za świetne wprowadzenie do tego tematu i obecnie rekomenduje swoim studentom. W liceum czterokrotnie był finalistą OI, zdobywając w sumie dwa złote medale. Dwukrotnie brał też udział w IOI zdobywając jeden złoty i jeden brązowy medal.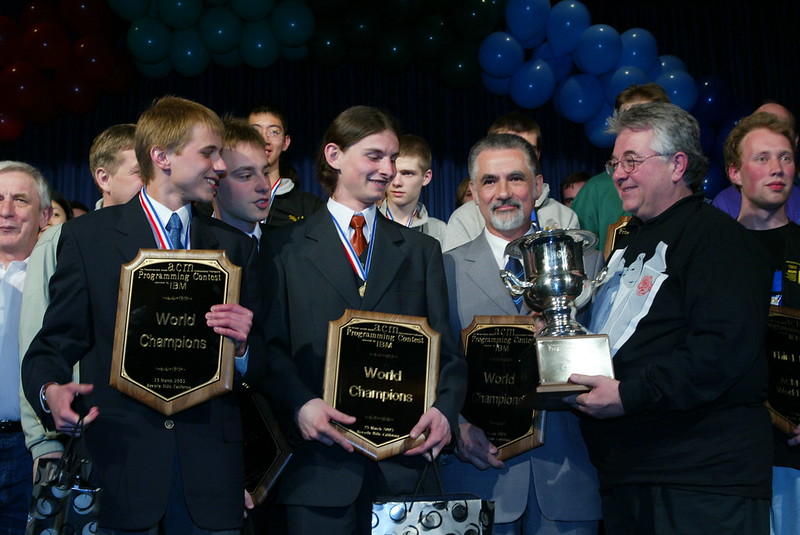 Z powodu znajomości nawiązanych podczas OI, wybrał jednoczesne studia informatyczno-matematyczne na UW. Ekipę z Andrzejem Gąsienicą-Samkiem i Tomkiem Czajką stworzyli, gdy był na II roku studiów, ale dopiero za drugim razem udało im się awansować do finałów ICPC 2003. Zajęli w nich pierwsze miejsce, zdecydowanie wyprzedzając konkurencję dzięki większej ilości rozwiązanych zadań. Po mniej udanym starcie rok później (10. miejsce) postanowił jednak nie startować więcej w konkursach programistycznych skupiając się bardziej na nauce. Z matematyki zrobił jednak tylko licencjat, za to z informatyki magistra u prof. Diksa. W międzyczasie odbył staż w siedzibie Microsoftu, ale z pracy dla tej firmy zrezygnował. Zamarzyło mu się bowiem robienie doktoratu w USA i przyjęto go do MIT, gdzie obronił go w 2010 r. prowadząc prace nad algorytmami dla dużych zbiorów danych. Potem otrzymał stypendium Jima Simonsa, które pozwoliło mu przez 2 lata prowadzić badania na Carnegie Mellon University w Pittsburghu.
W latach 2012-20 był zatrudniony jako naukowiec w IBM T.J. Watson Research Center w Yorktown Heights w stanie Nowy Jork. Współpracował też z MIT-IBM Watson AI Lab interesując się wówczas efektywnymi algorytmami dla dużych zbiorów danych w rozproszonych systemach przetwarzania i ich zastosowaniami do uczenia maszynowego i sztucznej inteligencji.
W 2020 r. otrzymał propozycję pracy na Boston Uniwersity, a ponieważ ją przyjął w styczniu 2021 r., przeniósł się do tego miasta z całą rodziną. Był pierwszą osobą zatrudnioną bezpośrednio na nowej międzydyscyplinarnej jednostce, Faculty of Computing & Data Sciences. Pomaga stworzyć nowy kierunek studiów "data science", co wymaga dużo pracy, ale jest dla niego bardzo ciekawym wyzwaniem. Między innymi, wymaga to zaplanowania wymagań, nowych zajęć i wykładów. Pierwszy nabór na te studia odbywa się w tym roku i studenci rozpoczną studiowanie we wrześniu. W ramach swoich obowiązków organizuje warsztaty i konferencje dla naukowców. Ostatnio organizował dwa spotkania dla naukowców z całego świata w Warszawie.