Dorota Cieślicka, a 25-year-old graduate of engineering studies in the field of construction at the Krakow University of Technology and a student of master's studies in construction with a specialization in BIM (Building Information Modeling) at the same university, won one of three bronze medals for Poland during the European finals of the EuroSkills Gdańsk industry competition 2023 in the digital construction category.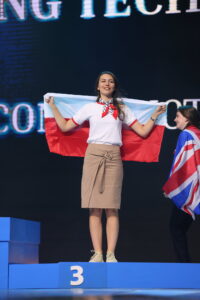 When she started studying construction, she had no idea about BIM. Still, when she began using modeling software while working on her engineering diploma, she concluded that it was worth studying this field for a master's degree because, although it is narrow, it is a critical specialization.
The competition in which she took part involved creating a virtual model of a building, saturating it with information about the project's location, orientation, and reference system, knowing coordination standards, i.e., combining models from various industries into one complete object, detecting potential collisions at the design stage, creating and managing data and entire data collections. All of this was intended to optimize the investment process and construction process.
Her most significant concern was the Dynamo program, which is used to improve things that the basic program cannot do or carry out quickly. It is, although it is the main program she uses in her master's thesis. The second problem she encountered while preparing for the competition was classifying and managing data in the COB format. It is a little-known information exchange format in Poland, so finding valuable materials on the topic was complicated.
However, the competition preparations were not limited to working at the computer. She also met with an expert from whom she received recordings, notes, information, and all the documents she needed. She also took tests for a few hours every weekend and participated in specialized courses.
Thanks to her advancement to the EuroSkills finals, she began to receive exciting job offers, and it was easier for her to talk to potential employers. At the same time, he sees that he is an employee the company wants to keep in the company where he works, which deals with construction investment management. However, he sees his future as a BIM manager or coordinator elsewhere.
According to Jacek Magiera, an expert from the Krakow University of Technology and the athlete's supervisor, BIM digital construction is, on the one hand, technology, i.e., software and new possibilities for design, modeling, and information management. On the other hand, it is an innovative process and way of working that focuses on the exchange of digital information throughout the life cycle of a building. Competitors participating in the competition are to simulate the working environment in BIM and the cooperation of many industries, i.e., produce, manage, and coordinate information. They must demonstrate vast knowledge and special skills, combining the competencies of many professions: architect, constructor, construction manager, and BIM coordinator, and these are separate professions and specializations at the university. Participants must be able to use many tools and technologies and know construction norms and standards, technical drawings, and BIM processes. It is one of the most demanding competitions because competitors must have many skills that must be acquired outside the official education system.