DeepL Translator is a powerful next-generation online translation tool based on neural networks provided by German startup DeepL. The website currently supports 26 languages. For example English, but also Chinese (simplified), French, Spanish, Japanese, German, Polish, Russian, and Italian (in May 2022). However, the technical details have not yet been disclosed.
The company was founded in 2016, and its founder and current CEO is Jarosław Kutyłowski. He is a Pole, Ph.D. in computer science, finalist of the Polish Olympiad in Informatics in 2001.
Jarosław Kutyłowski started work on the first version of DeepL Translator at Linguee, where he has worked since 2012. The system uses the existing Linguee translation search engine data set. Still, the innovative extension of the basic capabilities of neural networks has resulted in an unprecedented improvement in translation quality. The free version is offered from August 2017, and the commercial DeepL Translator Pro from March 2018. The paid version allows subscribers to unlock the full capabilities of DeepL's AI translation technology. They allow you to use an optimized web translator, integrate DeepL algorithms with your translation software, and build new applications and services using the DeepL API. DeepL entered the market when the technological landscape of machine translation was at a turning point. Old solutions, such as statistical machine translation, have just begun to give way to solutions based on neural networks.
Translation unequal to translation
The main difficulty in creating translation programs lies not in the different meanings of individual words but in controlling the entire translation process. When translating yourself and not wanting the translation to be literal and word for word, you first need to grasp the general sense of the sentence and think about how to translate this meaning into another language. It may require completely different grammar, sentence sharing, or many other linguistic methods. Only then you should focus on the individual words and try to finish the translation, revisiting the original sentence from time to time to check the separate terms.
It is where AI-based methods using neural networks show their advantage. The models that DeepL uses today can learn and abstract to very high extent. And it is why it allows them to follow a natural model and not just translate sequentially. As a result, the ability to formulate translations that are correct and in the target language is greatly improved. You can even think further about what DeepL does and consider not just one sentence but entire paragraphs at once. It enhances the quality of the translation as it resolves ambiguities that cannot be resolved at the sentence level. But also presents a challenge in terms of computational complexity.
The computing power you need
However, the question of how many possibilities a translation program has to "consider" before deciding to display the final translation is misplaced. It is because neural networks do not work that way. However, translation is a computationally very demanding task. Although DeepL's user base is large and performs many translations every second, the company's energy requirements to power its servers are in the megawatt range. These numbers are typical of industrial plants rather than startups in the industry. IT. It shows how much computation and power are needed to use AI-based solutions. Importantly, DeepL uses 100% renewable energy to power its translation engines.
Live or online translation
Of course, not all types of documents can be translated by programs, depending on the user's requirements. A machine-translated copy may be used immediately or require correction by a specialist in a given field. It applies to both legal and medical documents. In practice, however, many of the company's users who live abroad translate legal and medical texts into their mother tongue to understand these documents better.
Action prospects of DeepL Translator
DeepL is now profitable and does not have to look for external financing anymore, which is unique on a global scale. It was possible to achieve this only thanks to a product that develops virtually without too much expenditure on marketing.
The company is in the EU, USA, Canada, and Japan, collecting great reviews. One from TechCrunch is below: "Tech giants like Google, Microsoft, and Facebook use machine learning to translate very often. But the small company DeepL has outperformed them all and raised the bar high in this field. Its translation tool is as fast as the competition's but much more accurate and detailed than the ones we've tried."
Support for refugees from Ukraine
The issue of language barriers has always been one of the most significant challenges for humanity. Not only in extreme situations such as the war in Ukraine. Breaking down these barriers motivates DeepL. It is why the company provides a free service, although it does not yet support the Ukrainian language. Work is ongoing, but delivering the quality the company wants to offer users is complex and may take some time.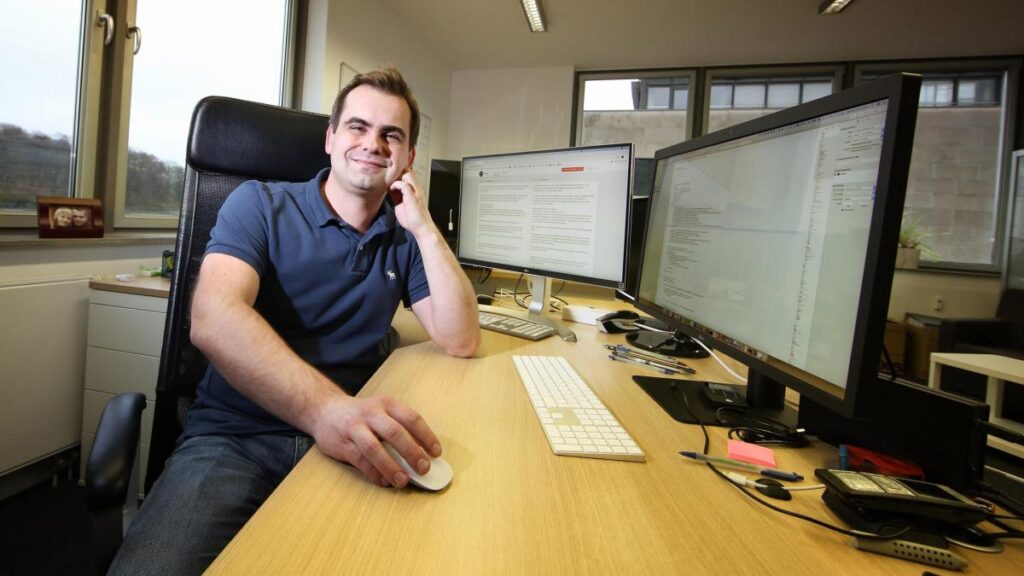 Read more here.
Similar topics: Grammarly (english editor with 20M subscribers) and Vasco Translator V4 (portable translator that speaks 75 languages).