Intelligent depositors for keys, weapons and other things are made by BT Electronics from Poland. Amomg its customers are Gazprom, Frankfurt Airport, Lidl, NATO-SHAPE (NATO European headquarters), National Bank of Serbia, Koper Sea Port in Slovenia, TU Topdanmark in Denmark and Abu Dhabi Police. Products of Polish company have been awarded gold medals at the Securex International Poznań Fair, including in 2019 and 2022.
The company has operated since 1995, producing intelligent electronic devices in construction automation. Its portfolio includes many products. For example the HOMATIC intelligent building management system, automatic reception, and porter support system.
Still, its flagship solution amomg intelligent depositors has become the SAIK Automatic Key Identification System over time. It includes an electronic locker equipped with software. The latter registers and permanently saves each collection and issuance of various types of keys, phones, documents, and weapons. The system administrator decides on granting access rights to specific persons and defining the time intervals for access. It is ideal for customers who cannot give up mechanical keys but have problems managing them. The company's main area of activity is, of course, Poland. Still, its products find customers in many countries worldwide, most of them coming from the United Arab Emirates and the Balkan countries.
Security Certificate
As a result of the verification procedure conducted by the Internal Security Agency, BT Electronics received the Industrial Security Certificate in 2021. It is a document confirming the entrepreneur's ability to protect classified information against unauthorized disclosure. Thanks to this, its solutions are currently used by most public administration units in Poland. In ministries, police, army, and Polish embassies, as well as by the largest State Treasury companies: PKN Orlen, PKO BP, Pekao SA, KGHM, and PGNiG.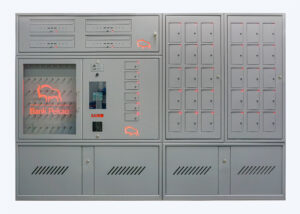 What in offer?
The basis of the offer are key depositories, but there are several types of the. SAIK KEY (keys on key rings), SAIK LOCK (keys in inserts), SAIK KEYinBOX (keys in boxes), and SAIK BOXinBOX (keys in boxes and sealed boxes). In addition, there are SAIK CARinBOX (vehicle keys in lockers) and SAIK CAR (keys for car rental companies and services). The latter allows you to store up to 72 keys. But also, being equipped with a breathalyzer, prevents the driver from taking the keys if he is under alcohol.
Another exciting solution is SAIK TUBE, an autonomous container mounted outside buildings, typically storing entrance door keys. Access to the key in the tube is possible after using a proximity card and entering a numerical code. As in every SAIK device, an unauthorized access attempt is signaled directly to security staff.
In turn, SAIK GUN, whose production began in 2019 at customers' request, won a gold medal at Securex 2020. A year later, and the following year, it took 3rd place in the "Consumers' Choice" ranking. It is designed to store a handgun and is identified using an RFID reader and a tag on the weapon. Each cache is equipped with optical sensors that determine whether an item has appeared. Additionally, the scale compares the weight of guns and magazines before and after collection.
Among other solutions, a locker for smartphones (SAIK PHONE) and postal parcels (SAIK POST) is worth mentioning. But the most flexible is SAIK CUSTOM-MADE, which can be configured according to your needs.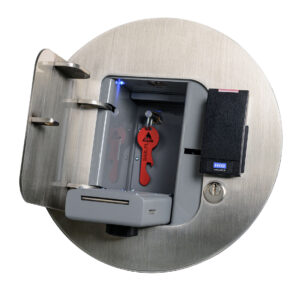 More information: https://bte.pl/en/