The MI² research team, which has been operating since 2016, includes students, PhD students and lecturers from the Warsaw University of Technology and the University of Warsaw. The algorithms and tools developed by them are presented in the Explanatory Model Analysis (CRC 2021) monograph and scientific articles published in prestigious journals in the field of data analysis, such as the Journal of Statistical Software or the Journal of Machine Learning Research. These methods are implemented to build predictive models in the health area, including risk calculators.
RISK CALCULATORS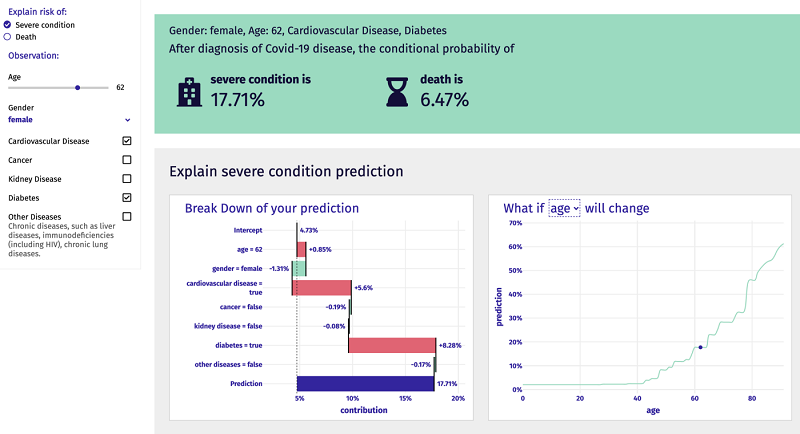 One calculator, developed in cooperation with the National Institute of Hygiene (PZH), is CRS19 https://crs19.pl/, which estimates the severe Covid-19 disease progression.
Another, currently under development within the xLungs project, allows for the automated analysis of CT images to identify pathological changes such as pneumonia, tumor, emphysema, etc.
These calculators are equipped with a proprietary explanation system that allows for more efficient cooperation between the user and the model.
DALEX LIBRARY
The developed DALEX library available as open-source for Python and R has over 200,000 downloads from official repositories and is widely used by numerous companies and research institutions. It is now the basis of many explainable risk calculators used in medical applications, such as the Covid-19 death calculator.