Since 2017, the competition has been organized by the European Cybersecurity Agency (ENISA), with a different European city hosted each year. This year, they took place on September 13-16 in the capital of Austria – Vienna.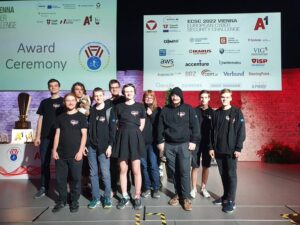 National teams consisted of 10 people: five aged up to 20 (Juniors) and five aged up to 25 (Seniors). The team participants from Poland were selected in the qualifying 2-day rounds in July this year. Their organizer was CERT Polska – an expert in computer security incident response team operating at the NASK National Research Institute.
A year ago, the team from Poland took second place after Germany (more info is here). Three years ago, in 2019 – sixth (the winner was Romania), and four years ago, in 2018 – fourth (1st place – Germany). In 2020, the competition did not take place due to the pandemic.
The competition lasted two days this year, just like a year ago. After the first day (HW Hacking & Escape the Box), the Polish team was second, behind France and ahead of Denmark and Italy. Unfortunately, on the second day, when the teams were fighting each other, attacking and defending the services in the simulated infrastructure (Attack / Defense CFT), it fell to the fifth. Detailed results are below:
Denmark – 12 966 points,
Germany – 11 251 points,
France – 10 819 points,
Italy – 10 686 points,
Poland – 10 179 points,
Sweden – 9 837 points.
The following representations took the following places: the Czech Republic, Romania, Switzerland, Austria, the Netherlands, Finland, Canada (unofficially), Estonia, the USA (unofficially), Spain, Iceland, Portugal, Cyprus, Norway, Belgium, Greece, Hungary, Slovakia, Malta, Luxembourg, Liechtenstein, Ireland, Israel (unofficial), Arab Emirates (unofficial), Serbia (unofficial), Slovenia and Croatia.
More information about the competition in Vienna can be found at ecsc2022.eu.