In new technologies, Poland won gold medals in electronics prototyping and integration of robotic systems and bronze in digital construction. In total, Polish representatives won 3 gold, one silver, three bronze medals, and six medals of excellence for obtaining a minimum of 700 points in the competition. Austria won the most awards (27), and Switzerland the most gold medals (12 out of 15 disciplines in which it competed). Poland in the last category was the 5th.
The European finals of the 8th edition of the EuroSkills competition were held in Gdańsk after the WorkSkills Europe Executive Committee resigned a year ago from holding them in Saint Petersburg due to Russia's entry into the war with Ukraine. It is the most significant event in the field of vocational training and skills development in Europe, which takes place every two years, combining the industrial, social, and educational sectors. During three days of competition, nearly 600 people aged 18-25 from 32 European countries performed in 42 contests, and their skills were assessed by over 500 experts from all over Europe, who first supported the national teams in their preparations. The finals were organized with the Foundation for the Development of the Education System (FRSE), WorldSkills Poland, WorldSkills Europe, the City of Gdańsk, and AmberExpo Gdańsk.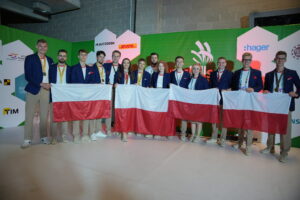 Poland was represented by 41 people, selected from the SkillsPoland Gdańsk 2022 Polish finals and several special editions, which took part in 36 disciplines. Out of 13 medals, three were won by representatives of new technologies. Jan Firlej won the gold medal in electronics and in robot integration, Hubert Krasuski and Piotr Wyrzyk. In turn, the bronze medal was won by Dorota Cieślicka in digital construction. It is a significant improvement compared to EuroSkills Graz 2021, when Poland, taking part in 16 competitions, won only three bronze medals, but none in new technologies, only in cooking, floristry, and welding. The European finals have been organized since 2006. Still, Poland has been participating in them for five years, and during its first start in EuroSkills Budapest 2018, it won only one medal of excellence for cooking.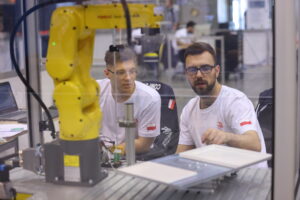 The awards ceremony took place at the Polsat Plus Arena stadium in Gdańsk. It was honored by Teija Ripattila, Chairwoman of the Management Board of WorldSkills Europe, and Prof. Paweł Poszytek, official delegate of WorldSkills Polska and general director of the Foundation for the Development of the Education System (FRSE). It ended with the handing over of the WorldSkills Europe flag to the following EuroSkills host country, Denmark – in 2 years, the competition will be held in Herning. The WorldSkills world finals, organized since 1999, will be held next year in Lyon (France). A year ago, due to the cancellation of the competition in Shanghai, it was held in 15 countries in 62 contests. Poland then won 1 bronze medal and three medals of excellence. She also competed in WorldSkills Kazan 2019, winning only one award of excellence.