W skład zespołu badawczego MI², który działa od 2016 r. wchodzą studenci, doktoranci i wykładowcy Politechniki Warszawskiej oraz Uniwersytetu Warszawskiego. Opracowane przez nich algorytmy i narzędzia są przedstawione w monografii Explanatory Model Analysis (CRC 2021) oraz artykułach naukowych publikowanych w prestiżowych czasopismach z obszaru analizy danych, np. Journal of Statistical Software lub Journal of Machine Learning Research. Metody te są wdrażane do budowy modeli predykcyjnych w obszarze zdrowia, w tym kalkulatorów ryzyka.
Kalkulatory ryzyka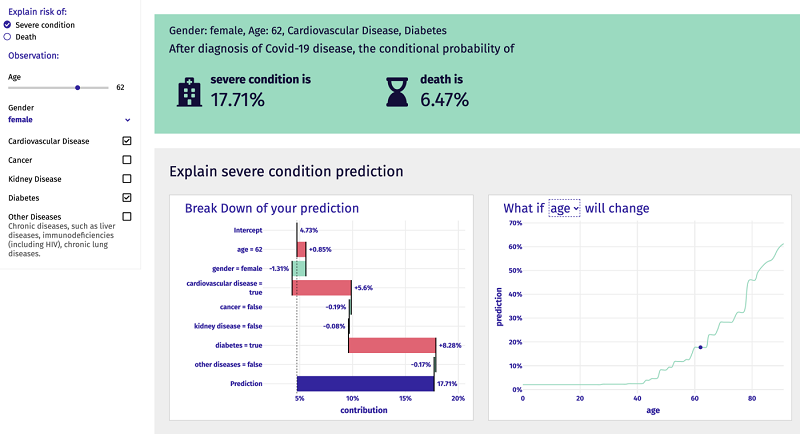 Jednym z kalkulatorów, który został opracowany we współpracy z Państwowym Zakładem Higieny (PZH), jest CRS19, pozwalający na oszacowanie ciężkiego przejścia choroby Covid-19.
Inny obecnie rozwijany w ramach projektu xLungs pozwala na zautomatyzowaną analizę zdjęć tomografii komputerowej w celu identyfikacji zamian chorobowych, takich jak zapalenie płuc, guz, odma itp.
Kalkulatory te są wyposażone w autorski system wyjaśnień pozwalający na sprawniejszą współpracę użytkownika z modelem.
Biblioteka DALEX
Opracowana biblioteka DALEX dostępna jako otwarte oprogramowanie dla języków Python i R ma ponad 200 tys. pobrań z oficjalnych repozytoriów oraz jest szeroko stosowana przez liczne firmy oraz jednostki badawcze. Obecnie jest ona podstawą wielu wyjaśnialnych kalkulatorów ryzyka stosowanych w zastosowaniach medycznych, przykładowo w kalkulatorze zgonu z powodu zakażenia Covid-19.