Elproma is a Polish company that actively creates the global IT/OT technology market in the niche synchronization and M2M telemetry segment. The company co-developed the CERN White Rabbit protocol (currently included in the IEEE1588:2019 standard) – significant for the new Ethernet TSN (Time Sensitive Networking). This year, the company contributed to strengthening global cybersecurity by expanding the European terrestrial time services of the GALILEO satellite system (as a result of DEMETRA Horizon 2020 project). Solutions based on Elproma servers included in the autonomous UTC synchronization systems, e.g. autonomous vehicles, are now a part of the new global cybersecurity policy. Elproma's works are also appreciated in the world of professional time metrology. The devices offered by Elproma are resistant to new threats of the "Time Synchronization Attack" and "Time Delay Attack" classes. They are discussed frequently on global forums, including ITU and IEEE.
All these achievements of Elproma contribute to global cybersecurity in critical infrastructures essential in the automated economy of Industry 4.0: smart-grids energy, 5G/6G telecommunications, and the automatic financial sector of HFT investments (MiFID II). Polish solutions provide an authenticated, stable (continuous) official UTC/TAI time reference, thus improving the operation of entire data centers and the most significant cloud infrastructures, including the OCP (Open Computing Project) group.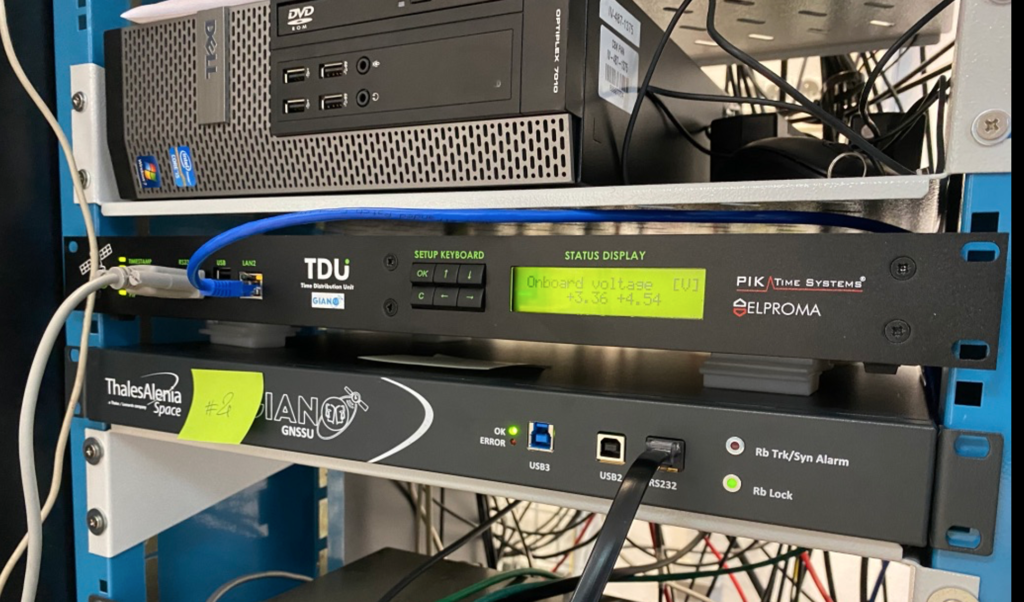 GALILEO-GIANO TIME RECEIVER
Thanks to the above, the Italian manufacturer of GALILEO satellite vehicles, the Thales Alenia Space, invited Elproma and PIK-Time to develop the network part of GIANO GALILEO receiver this year. The calibrations and test measurements were entrusted to PIK-Time and CBK Polish Academy of Science in Borowiec near Poznań. Both companies have been achieving international successes, important for Poland's reputation, for many years in the segment of professional time synchronization and metrology.
The GIANO is the first GALILEO time receiver designed entirely inside the European Union. It is crucial due to cybersecurity (time synchronization is responsible for IT stability) of the most important critical infrastructures: smart-grids, telecommunications, finances, and public administration. It is also essential for data centers, including Google, Microsoft, Facebook clouds. Also, the Industry 4.0 and the Ethernet TSN networks in the future will be based on GALILEO's official time. The GALILEO-GIANO time receiver is the first European alternative to very expensive military GPS SAASM receivers with cryptographic authentication coding to prevent GPS from spoofing attacks. The cost of American receivers is over 10,000 dollars – need a license and require US export approval for use. In the case of the European GIANO, starting to use is much easier, and the receiver is prepared with the average industry and the IT/IoT segment in mind. The fact that EU members have their own GALILEO receiver with cryptographic anti-spoofing authentication makes them independent of the military systems GPS (USA), GLONASS (Russia) and BEIDOU (China).
More information about Elproma is here