Students of the University of Warsaw won the silver medal, taking 8th place in the finals of the 45th edition of ICPC in Bangladesh. A year ago, in the finals of the 44th edition, the medal of the same color was won by another Polish university, the University of Wrocław, which took 5th place.
ICPC is the oldest and most prestigious team programming competition in the world. Initially, only North American universities participated in them, but since 1989 they have been held internationally.
This year's edition of the competition was as unusual as the previous one because, due to the pandemic, the finals were held two years after the regional qualifiers in the capital of Bangladesh, Dhaka. Despite the sanitary restrictions, 3-person representatives of 132 universities from 45 countries participated. There were 12 complex algorithmic problems to be solved, and the final results were determined by the number of solved tasks and time.
Results
Poland was traditionally represented in the finals by the same universities as in previous years: the University of Warsaw, the Jagiellonian University, and the University of Wrocław. The best was the University of Warsaw, whose team won the silver medal for 8th place with eight solved tasks. Its leader was Łukasz Kondraciuk, and Dawid Jamka and Konrad Paluszek also performed in the band. It is an excellent result, bearing in mind that Kondraciuk has been living in San Francisco for a year, working for Open AI (Elon Musk's company), making it practically impossible to train with colleagues before the competition. The coach of the team was prof. Jan Madey and Wojciech Nadara as a co-coach. The second, who is the two-time medalist of the ICPC finals in 2016 (silver) and 2017 (gold), won the 2nd (!) place in the competition for coaches. The Jagiellonian University took 21st place, and the University of Wrocław – 24th, solving seven tasks each. These are decent results, considering that eight teams did not solve a single task, 12 only 1, and 20 only 2.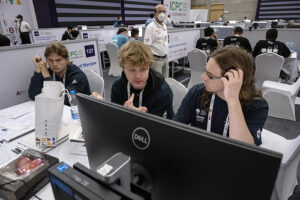 The MIT (USA) team won the competition by solving 11 tasks correctly, and gold medals were also won by: Peking University from China (10 tasks), Tokyo University from Japan, and Seoul University from South Korea (9 tasks each). So Asians dominated because the MIT team consisted entirely of naturalized Chinese, including the coach.
The best European university, ETH Zurich from Switzerland, was 5th, followed by the teams of the University of Paris (France) and Carnegie Melon (USA), also solving nine tasks, as well as the University of Warsaw (the fastest among those that solved eight tasks). They all received silver medals.