The startup aims to help students develop their interdisciplinary skills by designing, building and programming 3D printable intelligent toys. With Skriware, students can fully explore the possibilities of 3D printing technology, develop STEAM-related skills (Science, Technology, Engineering, the Arts, and Mathematics), and satisfy their natural curiosities in science, engineering and robotics.
SKRILAB
The central part of the platform is SkriLab, an educational laboratory based on 3D printing, programming and robotics. The laboratory includes, among others: 3D printer, educational robots, building blocks, and online tools for 3D modeling. SkriLab is suitable for 9 lesson subjects such as biology, maths, geography, physics, chemistry, nature, early school education, IT or technique. It introduces a creative approach to learning through problem-solving and simultaneously building manual and social skills. All of that is possible thanks to Skriware Academy, an online platform containing ready-made scenarios, materials and teaching aids dedicated to teachers.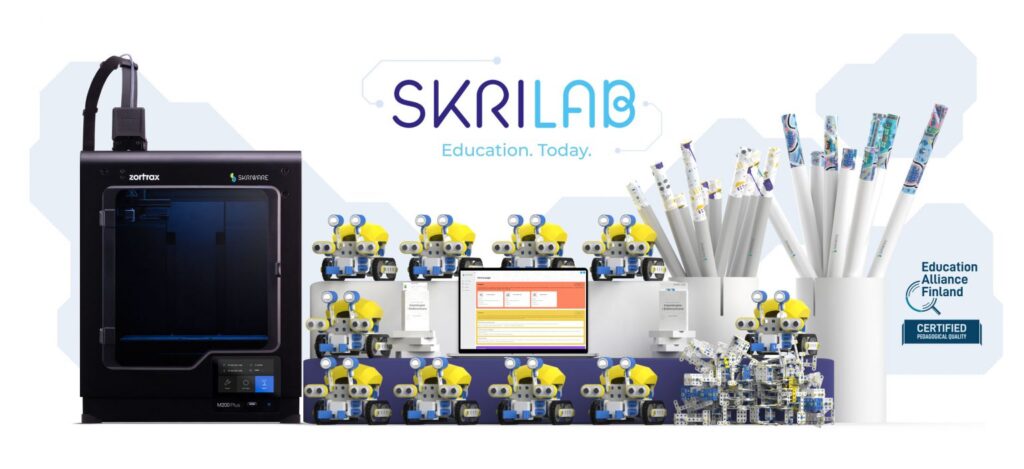 SUCCESSES AND AWARDS
Skriware was founded in 2015 by robotics and 3D printing enthusiasts who initially wanted to produce simple 3D printers for everyone. However, they quickly identified another market niche – the education sector. It gave rise to the idea of ​​developing a fully integrated teaching aid laboratory.
From the premiere of SkriLab in September 2020 until mid-2021, Skriware successfully implemented it in over 50 schools in Poland. Some students can also use the educational laboratory in Ireland, Belgium, Malaysia, India, Latvia, and Slovakia. After the sales success and acquiring a partner in Australia, it also gained interest from schools in New Zealand.
Skriware takes participation in various competitions and rankings. In the Global EdTech Startup Awards 2020, he qualified for the final eight. In turn, in The Extreme Tech Challenge, he was among the 80 best startups in the world out of 3,700 applications. It can also boast of taking 9th place in the Rising Stars category in the Technology Fast CEE 2020 ranking organized by Deloitte for the Central Europe region. This high position is due to the increase in revenues by 468% y/y. In July 2021, he reached the semi-finals of the international Top Tier Impact Awards competition in the Education & Media category. Currently, you can see it in the Polish Pavilion during EXPO 2020 in Dubai from October 1, 2021, to March 31, 2022.
Find out more about Skriware here