Filip Piękoś is only 15 years old, but he has managed to create a device that can improve the quality of life of thousands of people living in Poland and beyond.
The boy constructed ZHELTA K6 – a personalized programmable computer keyboard intended primarily for people with complete hypofunction of the upper and lower limbs. The device can be used by disabled and non-disabled people, for example, for simple keyboard shortcuts. After connecting it to the computer's USB port, the functions are adjusted using a simple graphical interface.
Road to Success
The inspiration for creating the keyboard was the story of one of his friends who had multiple sclerosis. Since, after some time, he could not use the computer with his hands due to illness, he replaced them with a cup, on which he mounted a pencil. Watching how he pressed individual keys with great difficulty, Filip figured out how to do it without touching. The result was ZHELTA K6 – a device with six magnetically activated buttons whose functions can be adapted to the needs of a given user. The keyboard has an OLED display that lets you view the currently used software or critical functions. And the keyboard itself can be activated mechanically by pressing a switch and magnetically using a pointer attachment, and it's touchless, which has never been invented before. Thanks to a unique built-in device, there is no* need to press a key. Since changing the overlay can make the keyboard work in different languages, it can be helpful in Poland and abroad. You can also issue macro commands. All this is excellent facilitation and a completely different quality of communication with the environment for people who have paresis of the limbs or are paralyzed. 
While working on his invention, the teenager received tremendous support from a teacher of vocational subjects – Artur Tutka. He gave him the necessary knowledge to implement innovative ideas using 3D printers, without which he could not produce keyboards. Now he can customize the product by personalizing it for each user.
However, the teenage inventor is not resting on his laurels and is already working on a new version of the magnetically activated keyboard. He would also like to modify it so that it can be used by the blind. For now, the keyboard is undergoing many tests, which are subjected to it by people with physical or intellectual disabilities themselves, submitting suggestions for further improvements. It is, for example, the curved shape of the keyboard to make movements smoother or the pointer attached not only to the cap but also to be held in hand and extended as a telescope. The built-in loudspeaker will inform about the changed keyboard layer and allow, for example, to call Twitter or Facebook. The keyboard will also be able to connect to Bluetooth, thanks to which will enable the touchless operation of the e-book.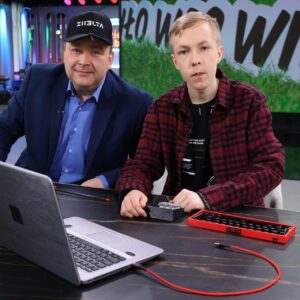 Family traditions
Both his father and grandfather were interested in electronics in Filip's home. In his grandfather's workshop, Filip saw the contraction and figured out what it could be helpful for in creating a keyboard. In the 1950s, one of the Danes had already tried a similar design, but without success. In Jarosław, it was possible thanks to the appropriate conditions at the school equipped with a workshop. There was a 3D printer, which Filip used to personalize his project.
Filip also invented a cheap, for less than $20, mechanical keyboard for players and programmers. The market price of similar equipment is over $200. It takes about 20 hours to assemble it manually, but many orders already exist. The second keyboard invented by Filip is the touchless one, e.g., for people with disabilities. The third is mechanical but works on the contactless principle by bringing the pointer closer to the key. Filip's sister, Amelia, also started assembling keyboards, and since she is in art high school, it is also a design for girls: with pastel colors, bows, and people. Work and tests are ongoing.
The students of the Jarosław school complex have become famous many times for their great ideas and inventions. It started in 2019 by printing a prosthetic hand in 3D for one of my friends. Then there were more printed prostheses. This year, students in the basics of technology workshop made a phone charging station and handed it over to the Border Guard in Przemyśl for refugees from Ukraine.